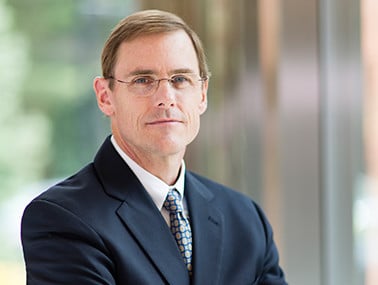 Our Senior Management Team
Peter M. Standish, Jr.
Senior V.P. of Development & Commercial
Peter directs Northland's development projects, commercial acquisitions and commercial management. Since joining the company in 1993, Peter has been responsible for the acquisition and development of over 7.5 million square feet of commercial and multifamily properties valued at more than $750 million. One of Peter's most notable accomplishments is his stewardship of Hartford 21, a one million square foot mixed-use tower development in Hartford, Connecticut. He managed all aspects of development and the structure of the project's complex public/private partnership.  Peter is currently overseeing the development of a 269-unit mixed-use project in Waltham, Massachusetts, and is responsible for all aspects of the firm's 1.9 million square foot commercial portfolio.
Prior to joining Northland, Peter was a Portfolio Manager for Whittier Partners, managing the account of the firm's largest client, Travelers Realty. Peter began his career as a commercial real estate broker in the suburban Boston market.
Peter holds a B.A. from Hobart College and an MBA from Babson College. He holds the CCIM designation and is a member of the Urban Land Institute, the National Association of Industrial and Office Properties and the International Council of Shopping Centers.  He also serves as a board member of the Downtown Boston Business Improvement District Corporation.